Your Passport to a healthy career in the food and drink industry
Your Food and Drink Careers Passport® is constant and consistent proof that you already have the basic knowledge all industry firms are looking for.
With a Food & Drink Careers Passport®, you are already ahead of the game when it comes to gaining a rewarding job in the Food & Drink Manufacturing industry.
It's a professional industry that's home to some of the country's most famous brands. Products you'll find on the food shelves of every supermarket. Familiar names from your regular weekly shop.
Gaining the Passport helps you stand out when looking to enter the industry. Passing the authorised courses means you've got all the core food safety and handling knowledge employers are looking for.
And study is easy. The bite-sized courses are short, available online anytime and take a simple, step-by-step approach designed to support you to succeed whether applying direct or through an agency.
Thanks to support pledges from leading industry employers, gaining your Passport could offer you anything from a guaranteed interview to preferential short-listing as well as cutting down induction time when you get that job.
With a Food & Drink Careers Passport®, you can instantly prove to new employers that you already have the credentials they need. Then keep track of your qualifications and take them wherever you go.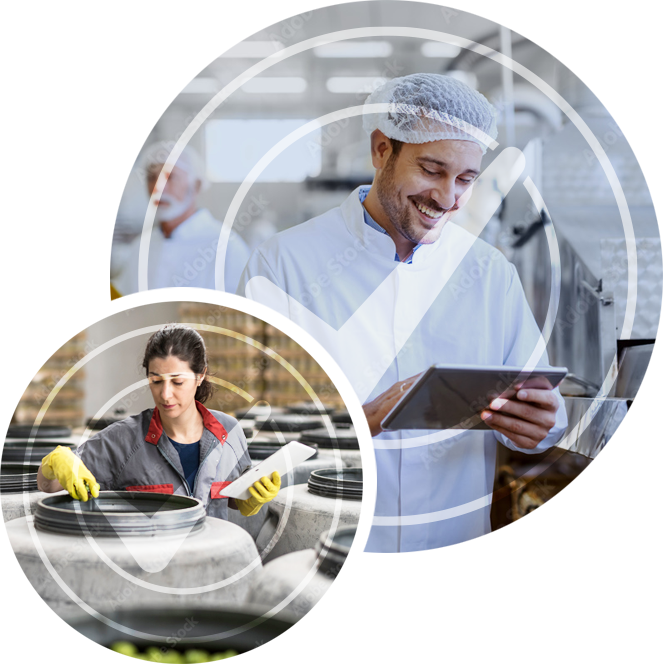 We are currently supporting various government funded initiatives which mean if you are on Unemployment Benefit you may be able to access the Food and Drink Careers Passport® free of charge. Get in touch to see if we can help you.
If you are registering with a staffing agency recruiting into food and drink manufacturing, ask if they are funding Food & Drink Careers Passport training.
If you want to take the course independently, please get in touch to discuss.
Get to the top of the selection pile for interview
Confirms to employers that you already know how to work safely around food
Boosts your chances whether applying direct or through a staffing agency
Backed by leading employers right across the UK, a Food & Drink Careers Passport® is a faster route into a worthwhile job with prospects in one of the country's most important industries - Food & Drink Manufacturing.
It's not a mandatory requirement – but having a Passport gives you a valuable head start and one recognised by leading employers. Once you start a job, you can skip straight through to any induction related to your specific role as you've already proved you have the core safety knowledge to be employed in the industry.
Meaning you can start faster. And earn faster.
Your certificate and evidence of your Passport accreditation is safely stored on the official national Passport database run by The National Skills Academy for Food & Drink.
If applying direct, just tell any prospective employer they can confirm your Passport credentials instantly by checking the database. Less hassle for them and a smoother path into work for you.
And if you decided to register with a staffing agency, the database means they can let workplaces know you have up-to-date certification in an instant. Putting you ahead of the rest for wider job choice and location opportunities.
Having your Passport online means you can take it wherever you go. Switching to a new employer or moving to new location with better pay, is that much easier.